Kobelco engine supply issue explained by Jack Fendrick
Kobelco COO Jack Fendrick talks candidly about the crawler market and recent engine supply challenges. (HT: AC&T)
It may be something we remember for years – that first face-to-face post-Covid-19 pandemic business meeting. For me it was in late April when I met with Kobelco's Jack Fendrick. He was passing through Central Texas for a family event, and since pandemic restrictions had been lifted for those who were fully vaccinated, we met up to talk about Kobelco, how it fared during the pandemic and recent engine challenges the company is facing.
A third-generation construction equipment industry veteran, Fendrick has long been a trusted and esteemed player in the crane sector. He has run Kobelco's crane division since 2011, when he was named president and COO. He was the first non-Japanese president of the company, a division of Kobe Steel. In 2019, Kobelco brought back together its cranes and excavator divisions in the U.S., and Fendrick was named chief operating officer of the united company.
Distinct advantage
Since the merger of the two divisions, Fendrick said there haven't been any significant changes in the way they do business.
"In January 2019 we built a second building and moved the cranes division into a separate facility with separate parts, sales and service teams and separate distribution networks," he said. "The only synergies are with the regard to the back office and accounting. The markets for both divisions are diverse and separate. Each group maintains its focus on its dealer and customer relationships."
While he now oversees cranes and excavator sales and service, he was quick to point out that Kobelco cranes have a distinct advantage in the North American market.
"We have a 100 percent focus on crawler cranes," said Fendrick. "We went from low, single digit market share to 35 percent market share because of this singular focus."
Fendrick is a valuable resource for me and for our team at American Cranes & Transport. He is sharp, honest and sincere, and he has a genuine concern for the people in this industry. The pandemic was a setback for Fendrick, a quick-witted people person who greatly enjoys interacting with his friends and colleagues.
"Technology its great," he said. "But nothing compares to being able to shake a hand, break bread and talk. You can't do that over the phone or video conference."
During our interview, Fendrick expressed the need to set the record straight about Kobelco's recent challenges with its engines. He likened it to the Mark Twain quote, "Rumors of my death have been greatly exaggerated."
"We are not going anywhere," he said.
What is the take-away from this interview? Fendrick summed it up quite eloquently.
"Kobelco has built our brand in North America by providing the best value package that includes service, support and a lack of bureaucracy, quick decision making and a good chart at a fair price," he said. "We are dedicated to that value package. We are 100 percent here and we are going to continue all aspects of our business. We are preparing to launch an entire new series of cranes to give our customers the latest and greatest in crane technology with the same value package that we've always offered."
I think you will be very interested in all he had to say.
Coming out of the pandemic, how do you view the market for crawler cranes in North America?
The market dropped significantly in 2020, but we are seeing it rebound. Still, it's not to the level of the excavator market yet, more in the 8 to 10 percent growth range. Traditionally, cranes follow excavators. It's the same when the market goes down. The first thing you have to do is dig the dirt. We anticipate market growth to accelerate in fourth quarter.
How has Kobelco weathered the pandemic? What were the biggest challenges?
Our focus was the health and financial well-being of our employees. Safety was number one. We are in business to make money and to take care of our people and their families. Beyond keeping our employees healthy, there were also financial concerns for the business and for the people who work for us. Fortunately, Kobelco is owned by a $20 billion multi-national company. We maintained full employment. We shut down the plant twice, but we always paid everyone.
Secondly, our focus was our dealer network. We are very dealer centric and recognize that all dealers are not created equal. We need them all to be successful for the long term. We chose a path to be partners as opposed to vendors. During the pandemic, this meant extended terms and we moved some orders. We worked with our dealers as best we could to help them through this challenging time.
Thirdly, we focused on our customers, supporting them through maintaining their operations. Some companies were working throughout the pandemic, and they needed parts and service. Even though Kobelco had a no air travel mandate, there were a few occasions when our employees got on the road via vehicle. We had employees drive to California, the Midwest and the Northeast. We did what we had to do to keep our customers up and running.
There has been a problem with the engines used in Kobelco's machines manufactured for North America. What happened exactly?
For this interview, let's just focus on the cranes. Our Kobelco CK series of cranes is the CK 800 to CK 3300. In the CK 800s through the 2750s, we utilize Hino engines. The CK3300 has a Scania engine. There is no problem with that model. Our engine issue is with Hino engines.
Hino was having difficulty meeting the EPA's 2021 certification requirements. Engine makers deal with this EPA situation every year. Each engine manufacturer has to apply for certification for that year's production.
Hino was having difficulty facing this EPA challenge. They made the decision in January 2021 that they were not going to attempt to reach certification. And they couldn't guarantee a schedule for 2022. This was alarming, as you can imagine.
But first off, we have a very good relationship with Hino, and we still use their engines in our excavators and cranes around the world. But we had to react for ourselves and our customers in the United States.
We went through a very lengthy vetting process, and in March 2021 we signed contracts with Isuzu to produce engines for our cranes. Due to the market drop in 2020 (Covid), we had a supply of certified Hino engines which we are using in 2021 to produce 85, 110 and 120-ton cranes, despite what our customers may have heard from competitors. All Kobelco machines have EPA-approved engines and our customers have no need to be concerned.
We are now redesigning our cranes for the installation of Isuzu engines. It's a lengthy process. We are not talking about switching out the engine of a 1954 Chevy. In today's technology and today's crawler cranes, engines have to talk to other components for the machine to function. It requires a lot of design engineering, especially when you are talking about seven models of crawler cranes.
Isuzu is a very large global engine provider. They weren't looking for this work, so it's been a challenge to fit our needs into their schedule. But we are very pleased with the selection of Isuzu. We have had a relationship with Isuzu in excavators that stretches back to the 1990s. We like their quality, their support and the fact that we can support their product directly through our dealer network. Product support is the cornerstone of our success.
What does it mean for the crane products?
We will use all of the certified Hino engines remaining in our inventory to build CK 850's, CK 110's and CK 1200's in 2021. The repowering project with Isuzu will be completed in the first quarter of 2023, at which time we will be have Isuzu-powered CK 800, CK 850, CK 1100, CK 1200, CK 1600, CK 2000 and CK 2750 units. As mentioned earlier, our 330-ton CK 3300 is powered with a Scania engine and will remain in full production.
Do you envision layoffs?
In the excavator world, we are shutting down the U.S. plant. In the crane world, we have a tenured staff of experienced veterans. We have always run a tight ship and no one's employment will be affected due to this hurdle. This is a North American issue. As a global company, we sell many cranes around the world.
What are the biggest challenges for you going forward? Short term? Long term?
For the short term, it's been an apology tour. We were 100 percent focused on the immediate engine problem that affects seven models of cranes and nine models of excavators.
Our dealers have been understanding. In some cases, they were more worried about us than themselves. For the short term, we've sold the cranes we have, and we are continuing to support those cranes. During this interim we will spend time on relationships and working to help our dealers. We are also going to be revamping our sales training program. We are developing an online sales training program to better train our salespeople on our products. Kobelco crane owners depend on our sales teams and our dealer's sales teams as a factor to see what the machines can do. Better educating our sales teams will allow us to educate our customers that they are buying the right machine, and the right tool.
So product development is the big challenge right now?
Product development is the life blood. Kobelco has a product development process that involves all our divisions around the globe. When we come back in 2023, there will be seven brand new Kobelco crane models with the latest features and benefits.
What about ECO-friendly machines. Do you envision a battery-operated crane?
Kobelco has always been focused on sustainable strategies. Their direction is to improve the community and protect the environment. We have been on the leading edge of emissions reduction. In 2011, our G series was introduced – the G stands for green. Among other things, these cranes were designed with an automatic stop feature after 10 minutes of idling.
An electric crane is coming, but I think we will see a substantial hybrid technology first. The challenge is to produce a battery that can run a heavy crane for 10 hours.
What is your take on the postponement of Bauma from April to October 2022?
To put it bluntly, it sucks. It is an understandable decision, but it's very difficult for the manufacturers. We will have the world's two largest shows (ConExpo is in March 2023) within six months of each other. Both shows are the opportunity to showcase our new products to our customers. The two shows so close together make it difficult and expensive.
What are your thoughts on the infrastructure bill passing Congress?
I expected that in the first 100 days [of this administration], an infrastructure bill would have been passed. Politics are at play. I would be very excited about a true infrastructure bill. We need one.
What have you been doing during the pandemic?
Really, I have not had a lot of free time. Although business slowed down, there was a lot to do. We took the opportunity to invest in service e-training and to do warranty and campaigning work. On a personal level, the majority of my time not at work I spent with my wife and kids. We built a new house and moved into it. Next up is college research/selection for our son and transitioning our daughter to high school. Thankfully, we are all doing well.
HT: AC&T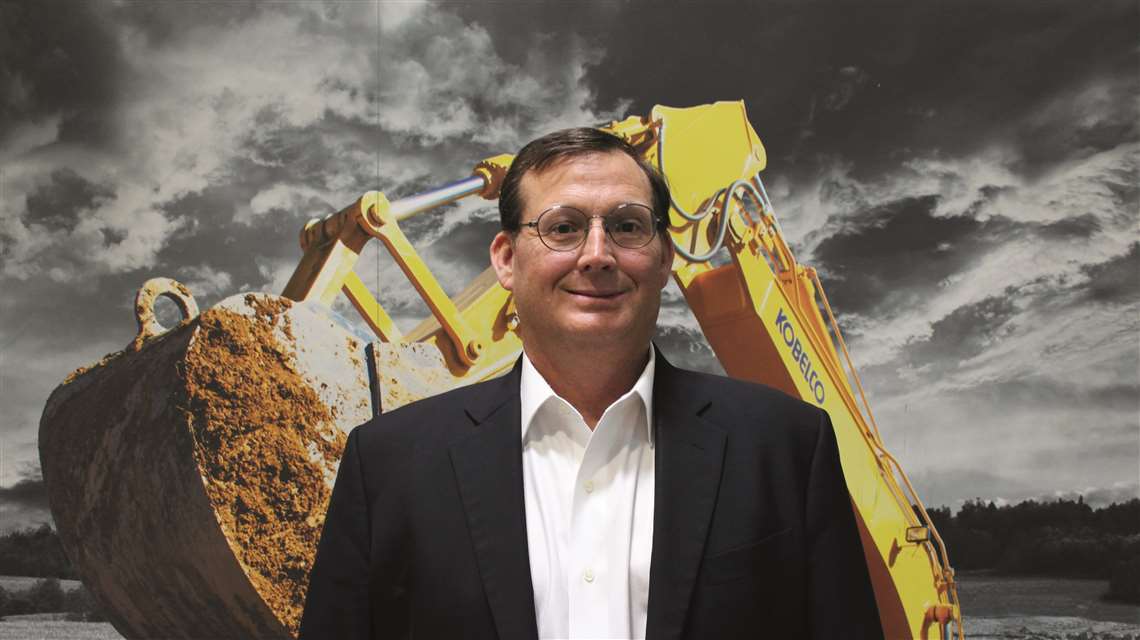 Jack Fendrick, COO, Kobelco Construction Machinery USA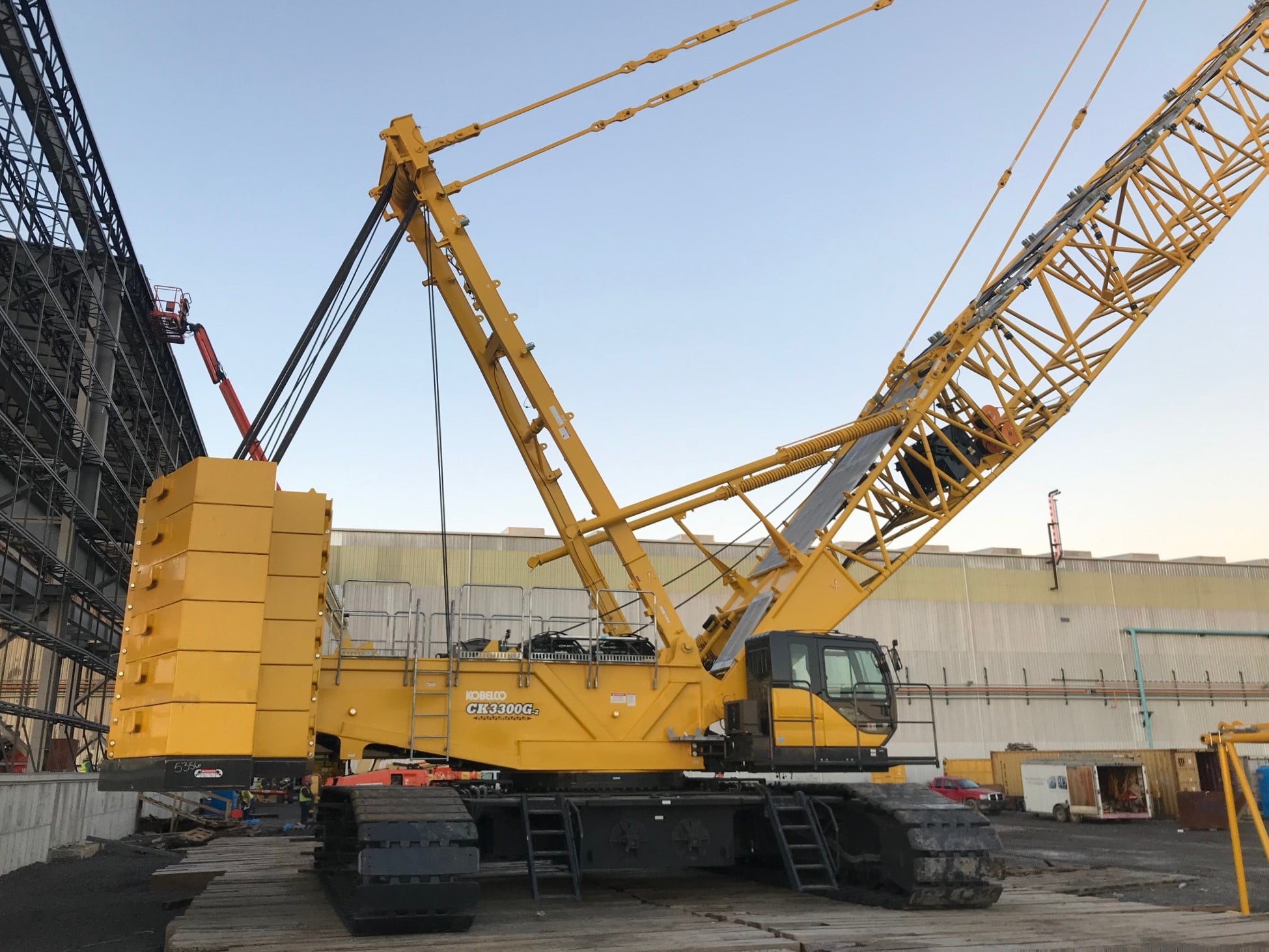 Ⓒ 2022 Dozier Crane & Machinery, Inc.